5.11 Rush 72
http://www.511tactical.com/
If you have poked around this site before you may have noticed I was a big fan of my previous pack the Rush 24. At this year's SHOT Show when I saw the new Multicam bags being displayed I had to have the bigger brother. Unlike my 24 which gets used for a lot of travel and civilian stuff the 72 was being picked for military work and camping only. The larger volume made it ideal as a field bag for my various middle of nowhere outings.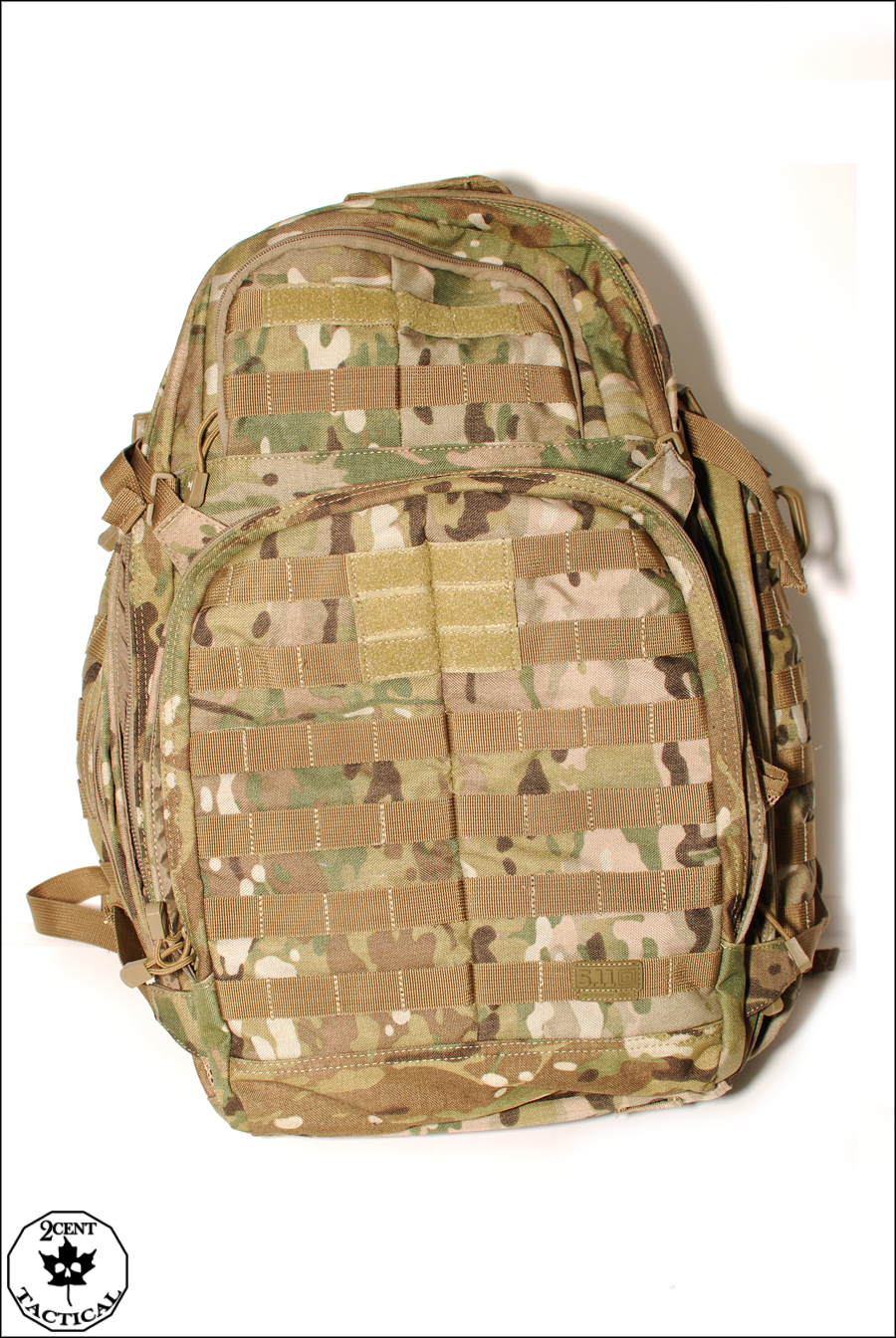 Pro's
-The beavertail is great for storing items that need to be readily accessible like rope or a helmet
-Larger volume coupled with the various organizers makes it easy to haul the essentials and snivel kit while still being able to find what it is you seek
-Side pouches work great to hold large water bottles and cooking gear to separate them from the main items
Con's
-The openings for the hydro ports on the top should be large rectangular holes to encompass valves and comms plugs
-Hip pads cannot be removed

Overview
Being in the military I always find it interesting to see what sort of packs people carry that are not their issue ones. It seems to be a fairly even split between the various Camelback packs and the Rush 72. This was one of the reasons I wanted the 24 originally because the people who had it spoke quite highly of it. That coupled with the promotion at the website I ordered from helped me decide. When the need arose for me to upgrade to a larger bag but not quite a full rucksack I decided to go with what I knew would fit my needs. Normally I would have tried something a bit different because I have a love of sampling the various tactical wares on the market. Specifically I had my eyes on the Camelbak Tri Zip but decided I would get one of those later. I have a soft spot for Multicam and figured I would try out 5.11's first offering in a camouflage pattern.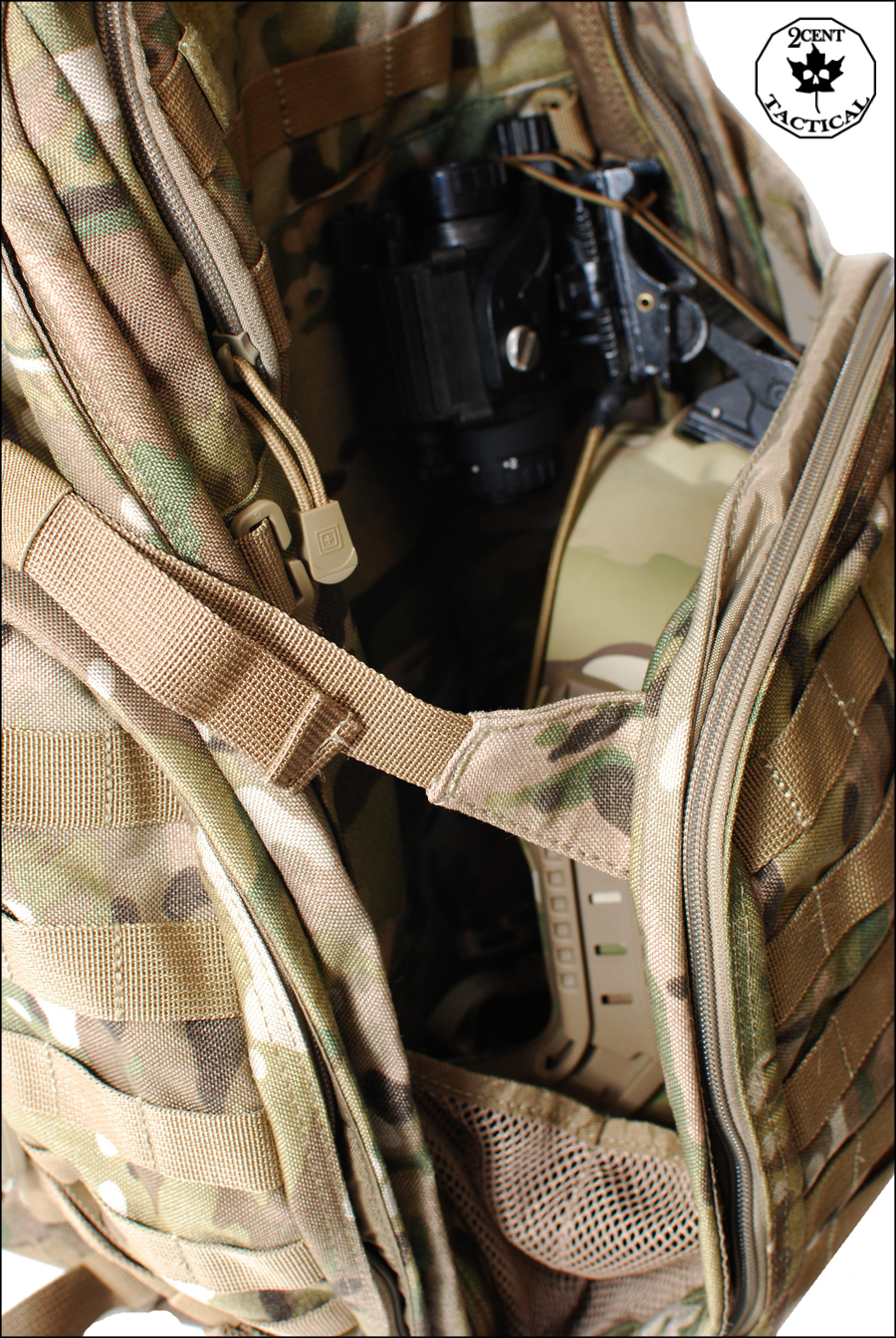 The exterior of the Rush 72 is the largest departure from its smaller brother's design other than the size. The very top of the bag is the same as before with two hydration routing ports as well as the grab handle. The grab handle consists of a larger piece of webbing folded over for the majority of its length on a thinner one inch webbing to form a strong and well fitting handle. I have had my bag filled up and stood in line with it in my hand and it was not uncomfortable. Not as good as a molded one from some of the civilian companies but it didn't fold up and create a pressure point. Like I said up top the hyrdo routing holes really should be large rectangular holes. This would allow the bag to carry a large radio and easily route the headset connections though and help with certain bite valves fitting through. The sunglass pouch is present on this model of bag also and gets lots of use. I often carry a spare set of ballistics in there when in the field or use it to hold my spare lens's, cleaning cloth and strap to save on space over the sometimes bulky cases.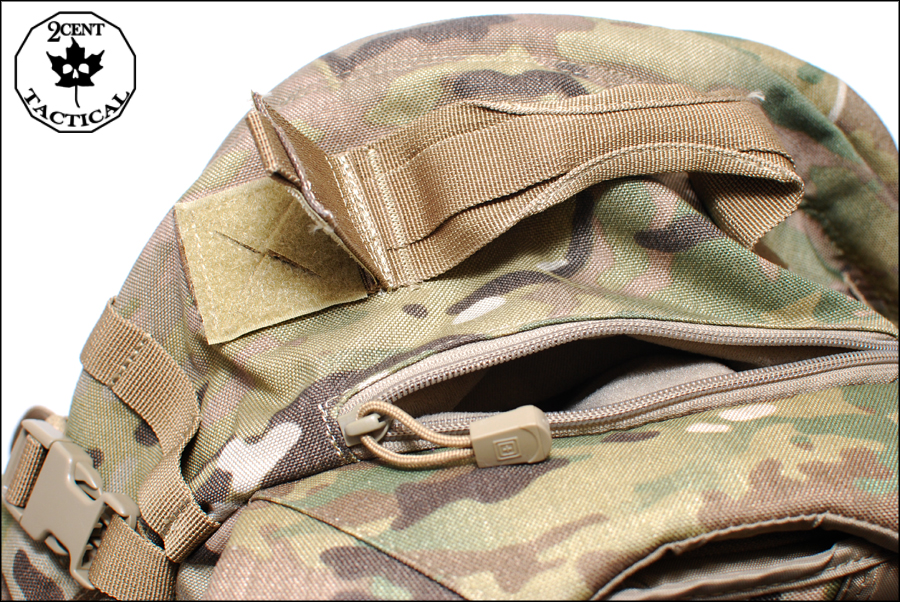 The shoulder and sternum straps now have an added strap compared to the 24 the waist belt. I was happy to see this addition to the 72 as it allows some of the weight of the bag to be transferred to your hips stopping your shoulders from getting as fatigued. The only thing I would like to change on this would be that it's removable so that if you don't plan on using it the strap isn't there. This is not really a huge change and is more a nitpicky change. The belt does have Molle webbing on it so you can attach a pouch or two to it if you so desire. I had a backup flashlight and a multi-tool on mine for awhile before moving them to my HSGI belt kit. I have loved my 5.11 shoulder straps since day one due to the contoured shape so they don't grind into your neck. It's a feature that adds to the comfort and your ability to hump it around for longer without pain. The sternum strap can be removed by sliding the black plastic clip out of the webbing and placed to the appropriate slot on the shoulder webbing. I lowered mine down by a notch when I got the pack and found it was not riding to close to my face that way.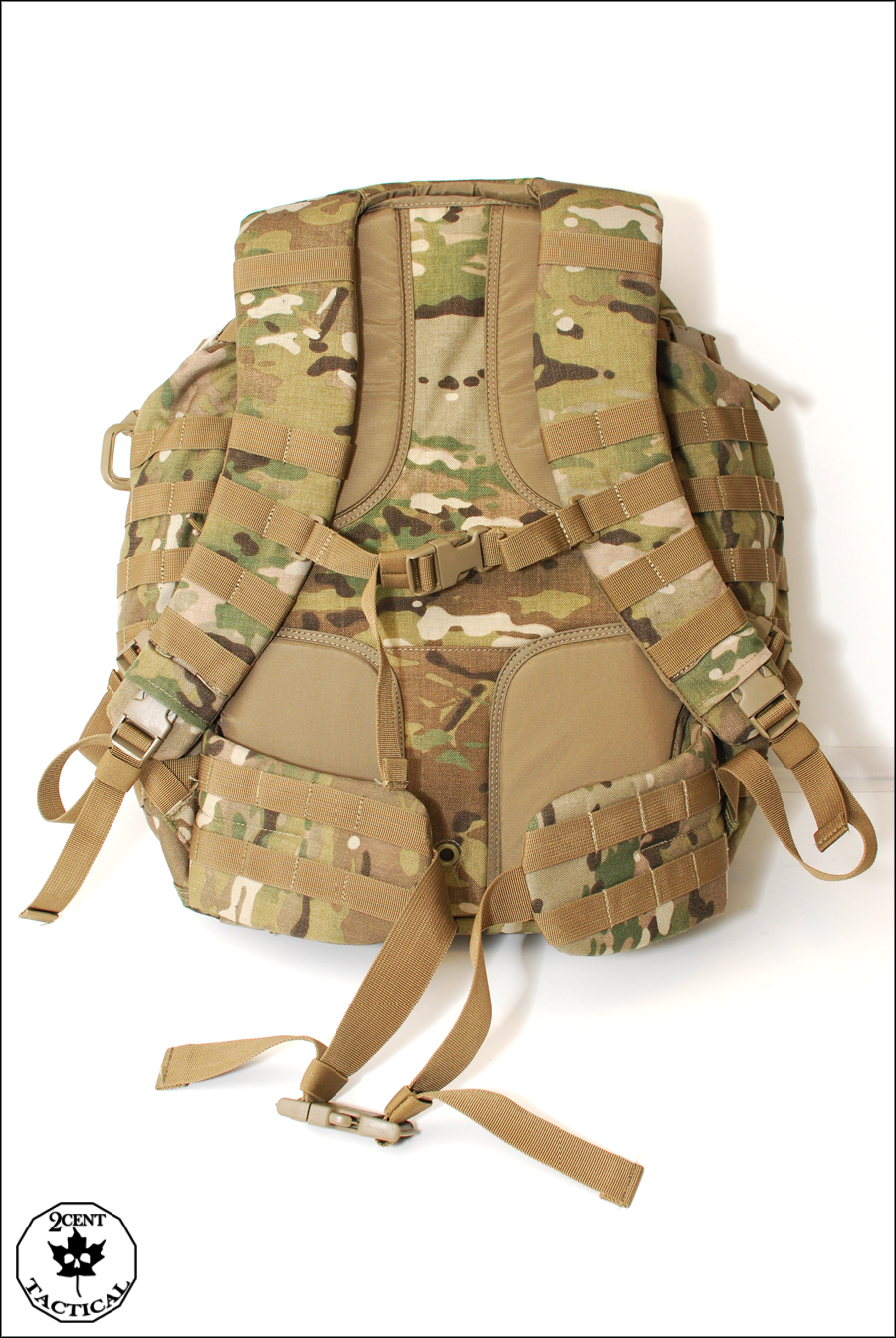 The beavertail is another new addition to this pack and has proved quite useful so far. I have used it to hold climbing rope, an Ops-Core base jump helmet and my small camera bag. If you have the front pouch filled with stuff you should make sure to cinch down your top straps for the beavertail or the pouch will droop awkwardly. The beaver tail is not the same as on a Triple Aught Design pack and is not intended to carry a rifle. The front pouch is covered in a good pile of Molle webbing which I plan to accessorize by slapping a Triple Aught Design OP1 pouch to the front to organize all my small tools and batteries. At the top of the pouch is a three by three square of Velcro to affix your favorite morale patch, unit identifier or IR patch.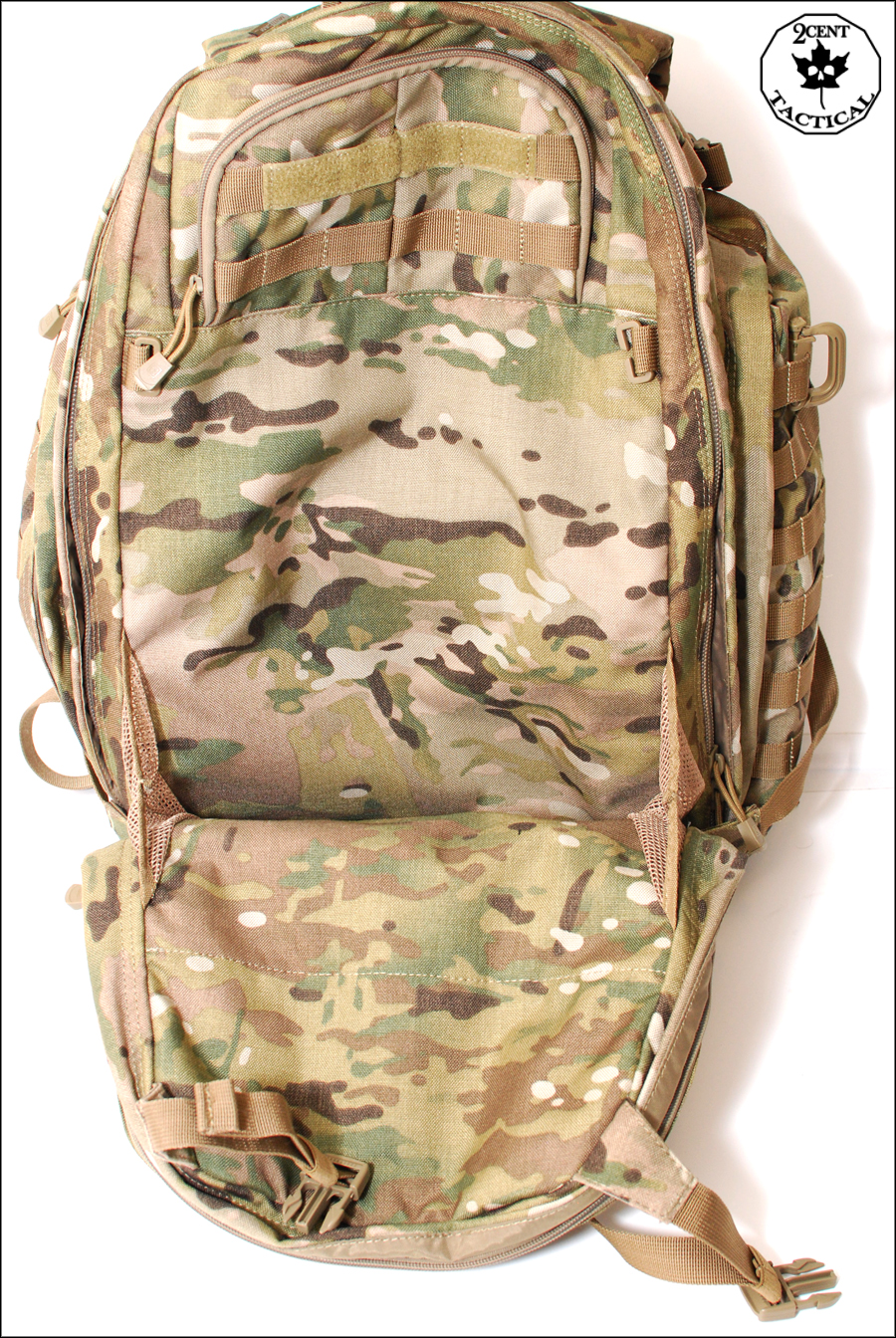 The pouch zips open and contains more organizing pouches and pockets to store your items. At the top of the front and back of the pouch are two mesh pockets that zip closed to allow easy identification of the contents. I like to keep my battery carrier, a spare knife, field sharpener and a few glow sticks in these pouches. On the outside half of the pouch are two pockets with a Velcro strap at the top to close them. They can hold anything from spare mags to radio batteries. I tend to carry a field dressing and a spare pair of socks in mine. On the inside of the pouch just under the top mesh pouch is another pocket that closes with a zipper. I don't use this often but when I do it's normally to carry some mini maps in it. Under this is the open flap pocket, pen holders and a key ring which works like a charm to hold my house keys when I am in the field. No fishing around at the end of the ex in your bag to find your keys.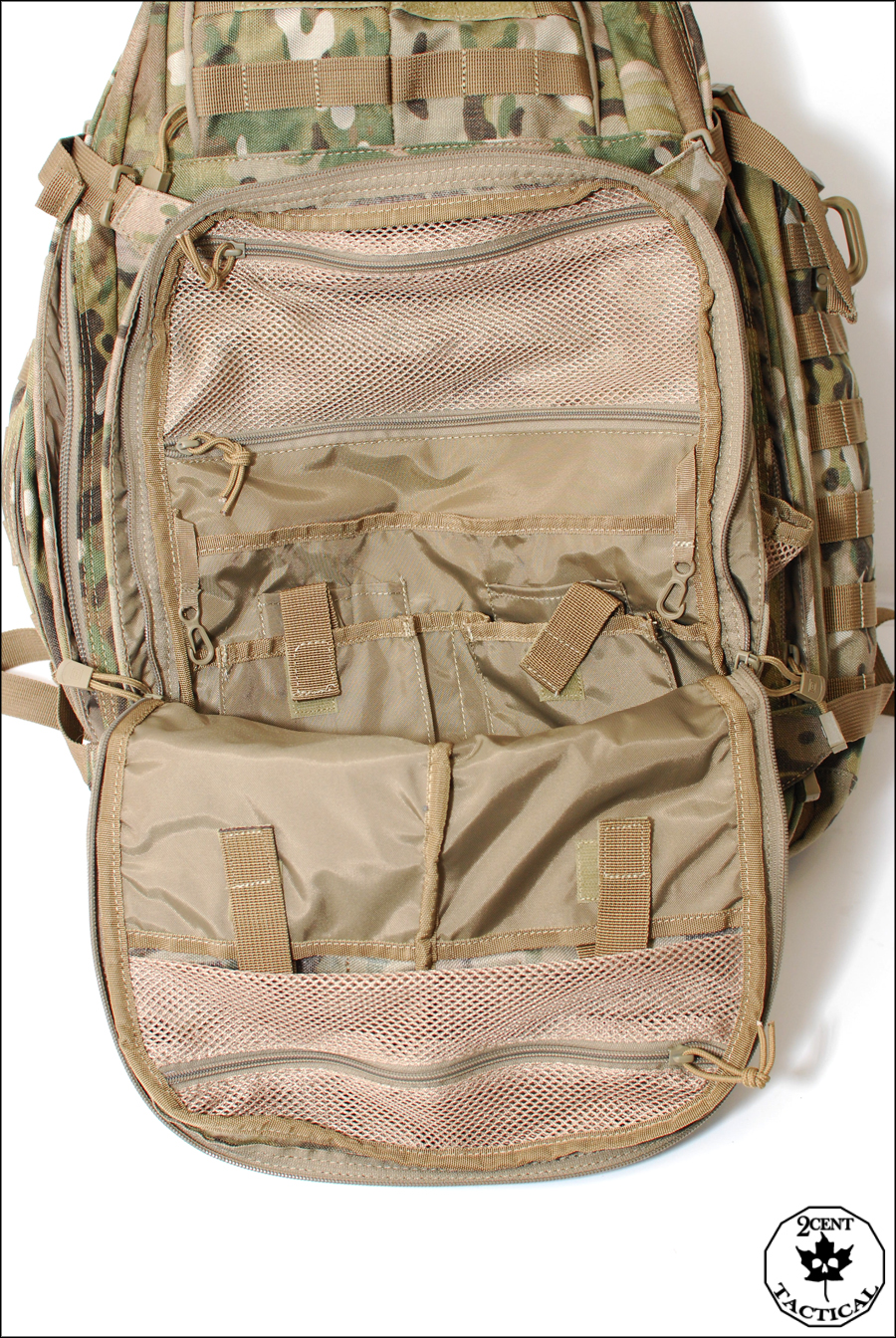 The two large zippered side pockets are once again covered in Molle webbing and are great for holding your cooking supplies. I typically have my JetBoil and spare canisters in one side and a large water bottle or spare hydration pouch to hold cooking water. I also attempt to cram a few Mountain House meals in there if I have room otherwise they get stuffed into the main pouch at the top for easy accessibility. Each side pocket has a slash pocket inside which I don't normally use but I did put a pack of waterproof matches in there in case of my igniter failing although they will be replaced with a spare igniter.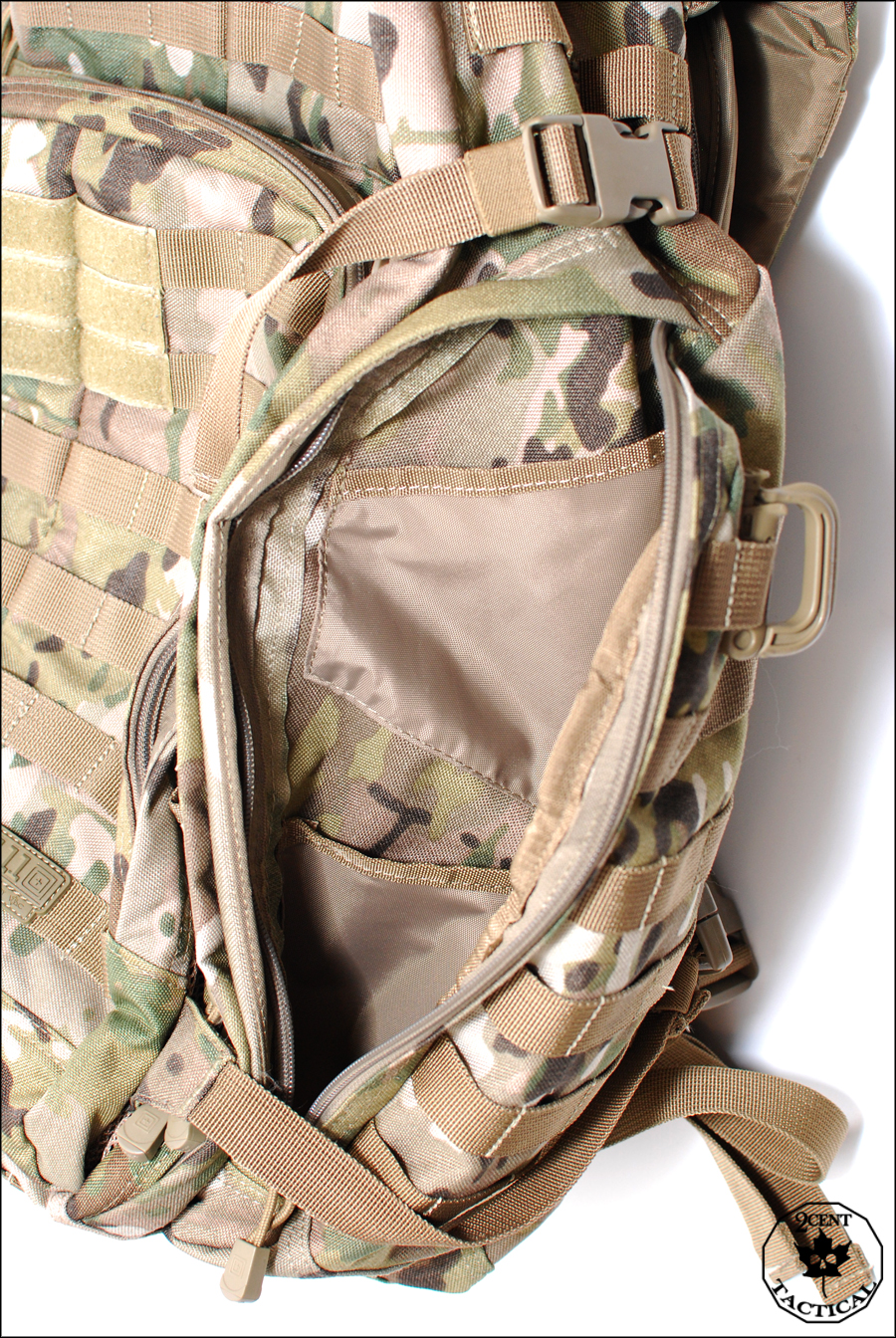 Just above the beavertail/pouch is the top clamshell pouch. This pouch slightly differs from the one on the 24. The one on the 24 was two separate clamshell pockets. The inside contains the fleece lined pouch to hold your cell phone or PDA and a zippered mesh pocket. I am looking around to see if I can find a solar charger that fits in this area otherwise I will toss my Eliminator ac/battery plug charge box in there for my cell phone.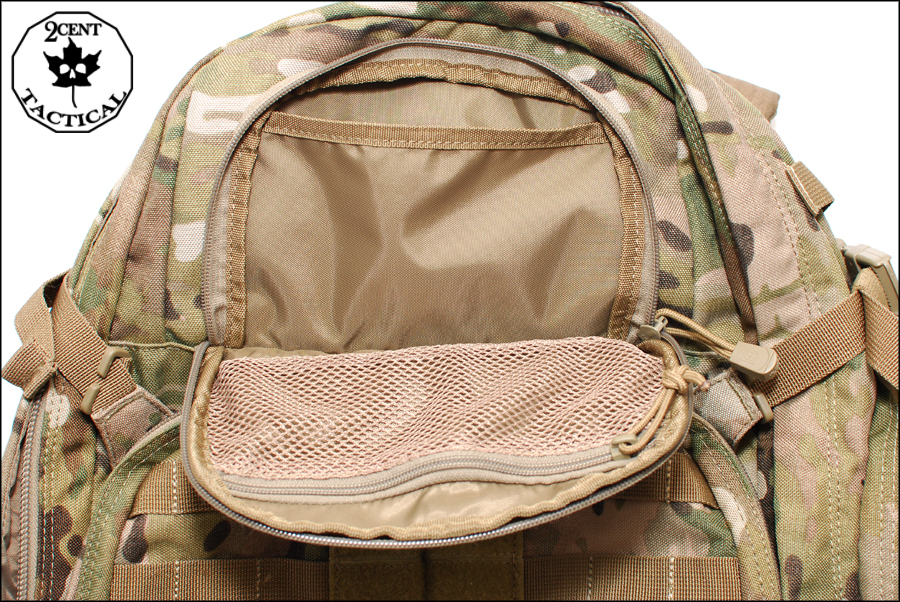 The main body looks quite similar to the 24 just on a slightly larger scale. The lid contains two mesh covered pockets on the top and a regular fabric one underneath. I toss my wallet in the top pocket and usually store various other things like cough drops and some Tylenol in the others.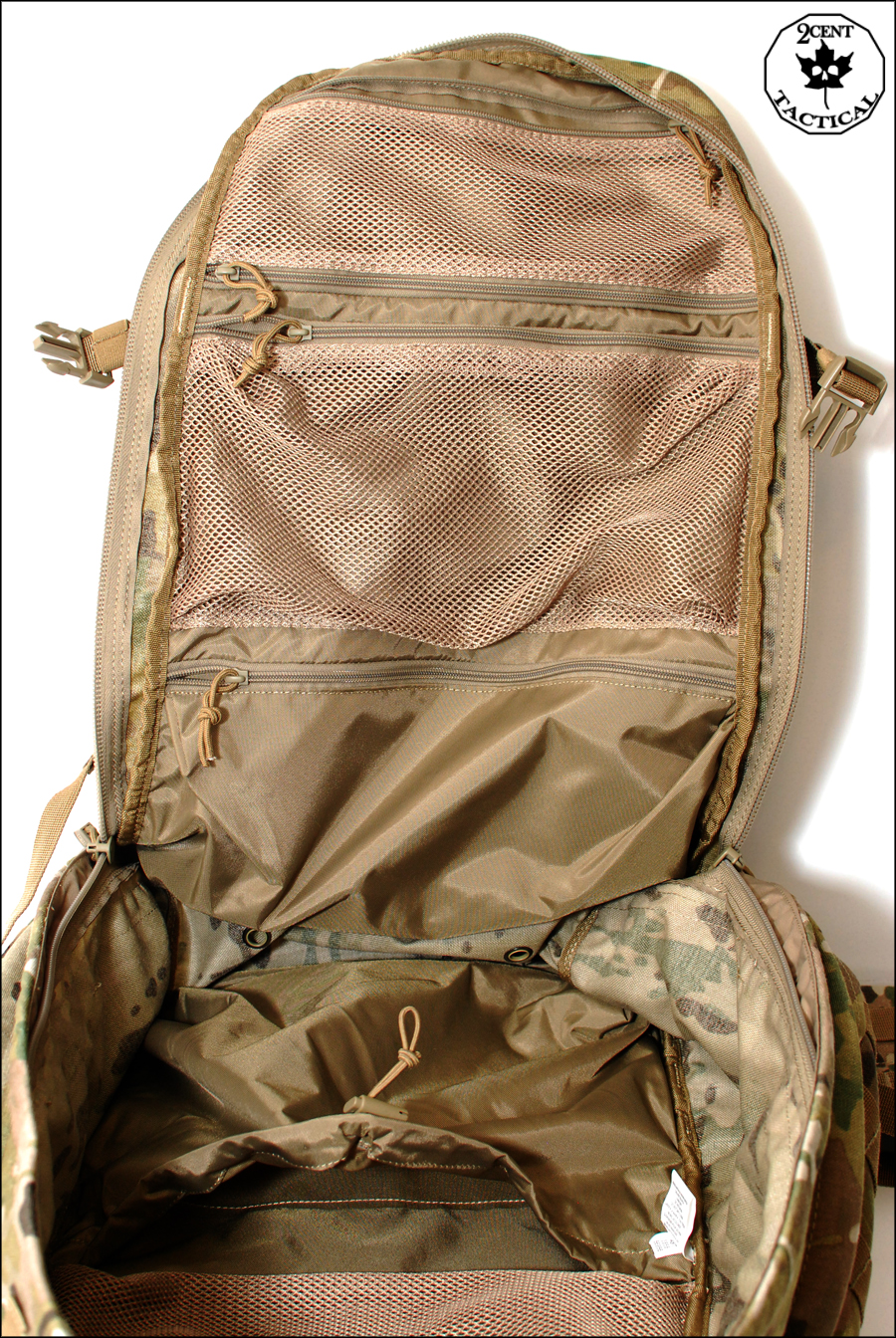 At the top of the back is another mesh covered pocket which helps you keep your items easily identifiable if you don't know your pack loading off by heart. Under this is the water resistant shock corded pocket. This is good for carrying a lap top around or separating items from the main body of the pack. I toss my snivel kit (small Gortex liner, and Snugpak Sleeka) in here so it can be easily found if I have to dig. When I pack the main body of the bag I typically will put my clothes in a water proof stuff sack at the bottom and my tent and sleeping kit at the top.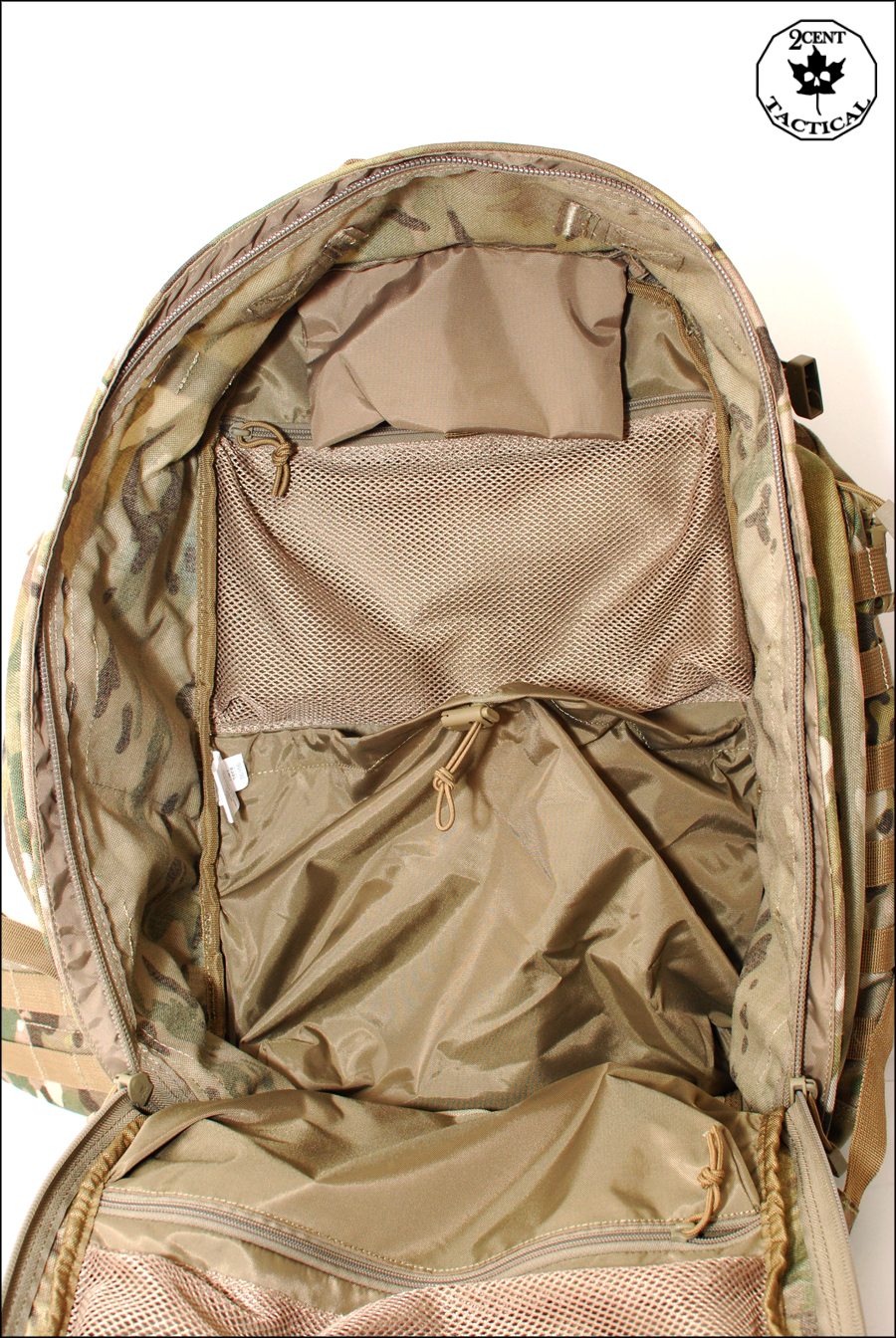 Underneath the shoulder straps is the zippered pocket that contains the plastic sheet and aluminum stay. This is also where I toss my other hydration pouch that ends up getting rigged out through the top of the pack.
As far as a 3 day pack is concerned this one is most certainly on my short list of favorites I have used. I can definitely see the wide appeal it has within the Canadian Forces and am happy I got it. If you are looking for a pack that allows you to attach various pouches to the exterior and allows you to comfortably carry a lot of stuff check out the Rush 72. The good thing about 5.11 is they offer their bags in various sizes differentiated by the amount of hours you would likely be using it for i.e. 12,24 and 72. The only problem is it has me wanting a MOAB 10 in Multicam but there is no word on that yet. I am hoping this is one of the items displayed at next year's SHOT so I can replace my long lost SOTECH Go Bag. I am glad that 5.11 has started to offer items in Multicam and look forward to what's to come.