The following review is on a product by Gear Keeper. The retractor lanyard system is very versatile in mount methods and forces required to extend the lanyard. It allows you to attach an item like a flashlight, multitool, keys etc to your person. Once attached you can extend the cord by pulling the item to use it. This helps minimize loss of essential small kit items. They even make retention systems for firearms. The one being reviewed in the article is the 9oz of force Heavy Duty Snap Clip model. This model allows the Gear Keeper to be attached to a D-ring or other similar item.
The entire device including the Niteize S-biner that is replacing the split ring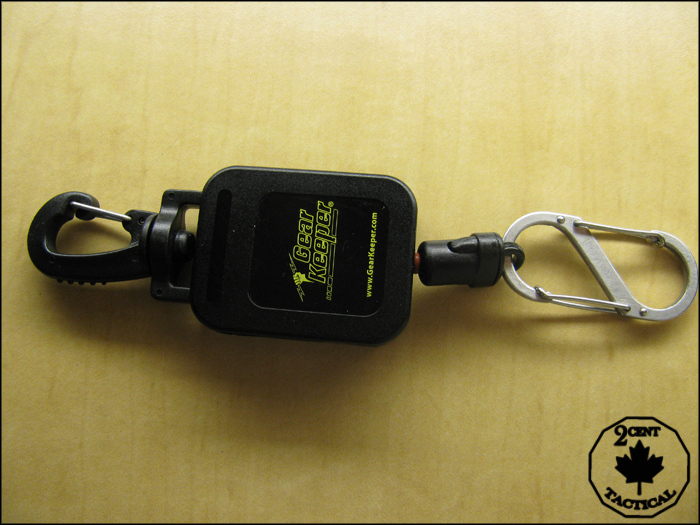 Pros
-Stops loss of essential small items
-Has a quick disconnect part that attaches to your item. This is useful if you are not worried about losing the item at the time and don't want it to be corded in
-Strong mounting point withstands lots of abuse
-Cable always snaps quickly back in even when a bit dirty
-Comes in varying mounting methods and draw strengths
Cons
-The hole where the split ring attaches could be larger to accommodate a larger variety of carabiners
Materials
The keepers main body, snap clip and quick disconnect are all made of a nice durable plastic. The gate on the snap clip is stainless steel as well as the split ring. The cord that extends from the body when pulled is a nylon coated stainless steel cable with a 60 lbs breaking strength. Just before the quick disconnect on the cable is a small orange rubber o-ring which stops the two plastic pieces from crashing into each other.
Here you can see the nylon coated stainless steel cable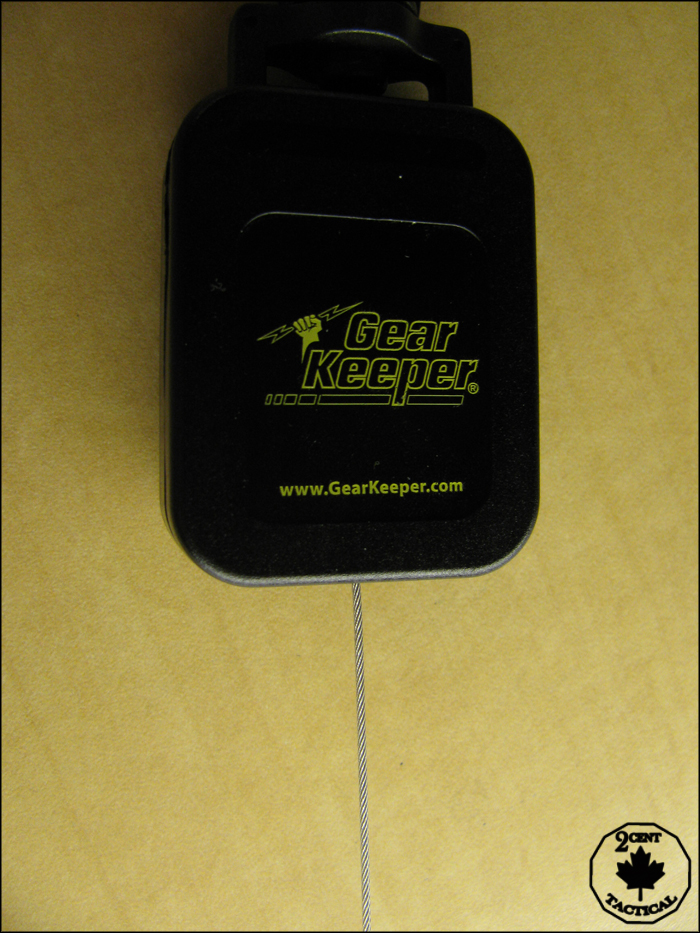 Features
The Gear Keeper is a fairly straight forward device but can save you money. It allows you to keep an expensive piece attached to you and close at hand if needed. If you have dropped a knife or flash light in tall grass and couldn't find it this is a piece of kit for you. The cord extends out to 25″ giving you plenty of working length. On mine I replaced the split ring with a Niteize S-Biner so that I can swap tools on it more efficiently. The large snap clip attaches firmly to a D-ring, belt loop or similar item. Once on it won't accidentally come off because the gate is recessed firmly in a notch on the clip.
The cable on the keeper is very slick and wont bind easily. I attempted to kink the cable but it requires a lot of force that would be hard to accomplish unless you were trying. It slides in and out of the main body with ease and doesn't appear to hang up on anything in the several hundred times I have opened and closed it. The quick disconnect works as it should although it can be a bit hard to operate with gloved hands. This is good though as it will stop an accidental release.
Here you can see the quick disconnect after it has been seperated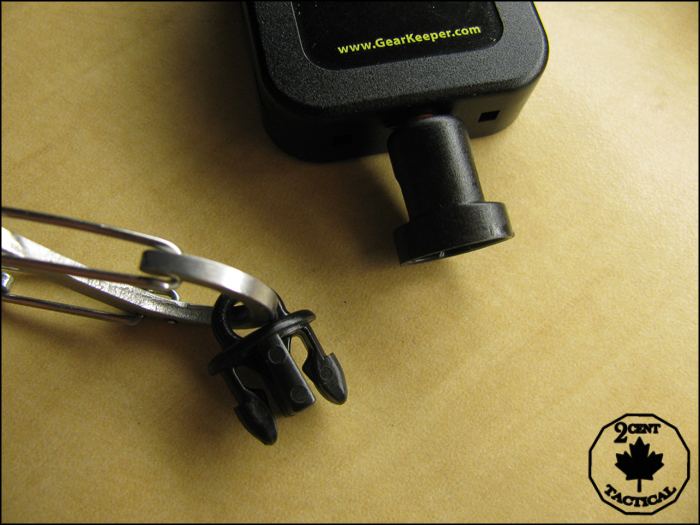 The split ring that comes in the package is good quality and snaps back together even when forcing a large item like a thick knife through it. As said previously I just opted for an S-biner out of convenience because it wasn't always going to have the same item on it.
Summary
I was really happy to finally pick one of these up at SHOT Show. A year ago a friend of mine had shown me his that he uses to attach his Strider PT knife to and I instantly wanted one. I have dropped to many knives and small objects in the field to pass a great item like this up. If the item you have doesn't have a way to attach the keeper to it you can always MacGyver something up with para-cord and gun tape. When I get around to picking up a Garmin GPS I will most certainly be attaching this to it. For the price of $19.99 it's hard to say no to a piece of kit like this if it can help you keep a hold of your $400 knife, flashlight or other piece of kit. I know I plan on picking up the version that allows the cable to be locked asap.