INFORCE APL 200 Lumens
http://inforce-mil.com
I have wanted an INFORCE APL(Auto Pistol Light) badly ever since its initial release, however the issue was that I did not have a pistol at that time. Thankfully, when I got my Glock the new improved version of the APL came out in flat dark earth colour.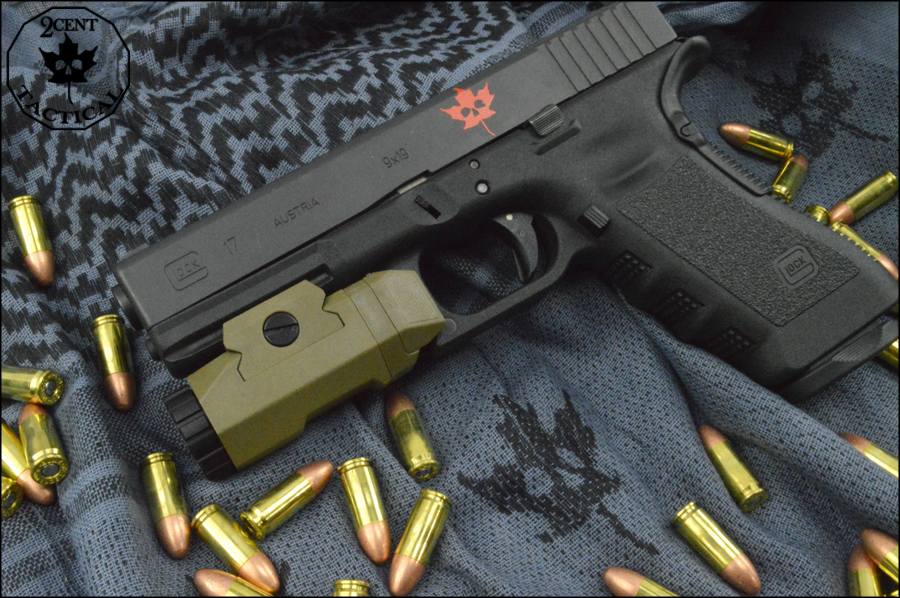 Pros
-Dual sided ergonomic switches
-No useless modes
-Screw mount replaced the quick release mount
-Fits same holsters as previous version
Cons
-Holster availability is not as good as with other lights
Overview
The INFORCE APL is a 200 lumen pistol light capable of running for 1.5 hours on one cr123a battery. For me, the biggest draw of INFORCE is that they design everything with ergonomics in mind, like the WML, for instance, which feels like your finger is just meant to sit on the switch.The good news is that the APL feels just the same way, when your finger sits on the outside of the trigger area the tip of your finger seats nicely along the ridged, angled switch. The switch is ambidextrous so lefties or people who practice shooting with both hands in case of injury can rejoice.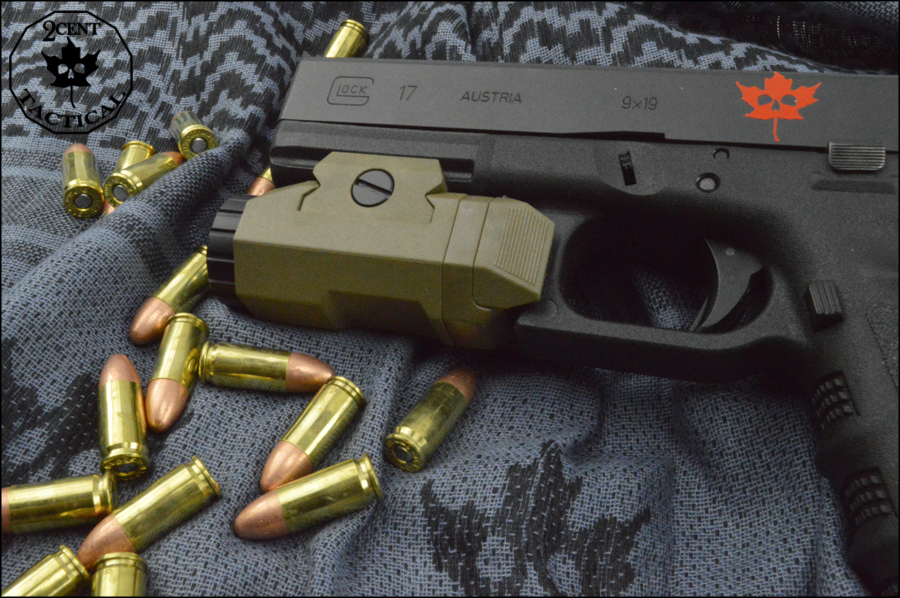 The APL is also made of polymer allowing the switches or the top of the mount to be stippled for extra grip if shooting with thumb forward.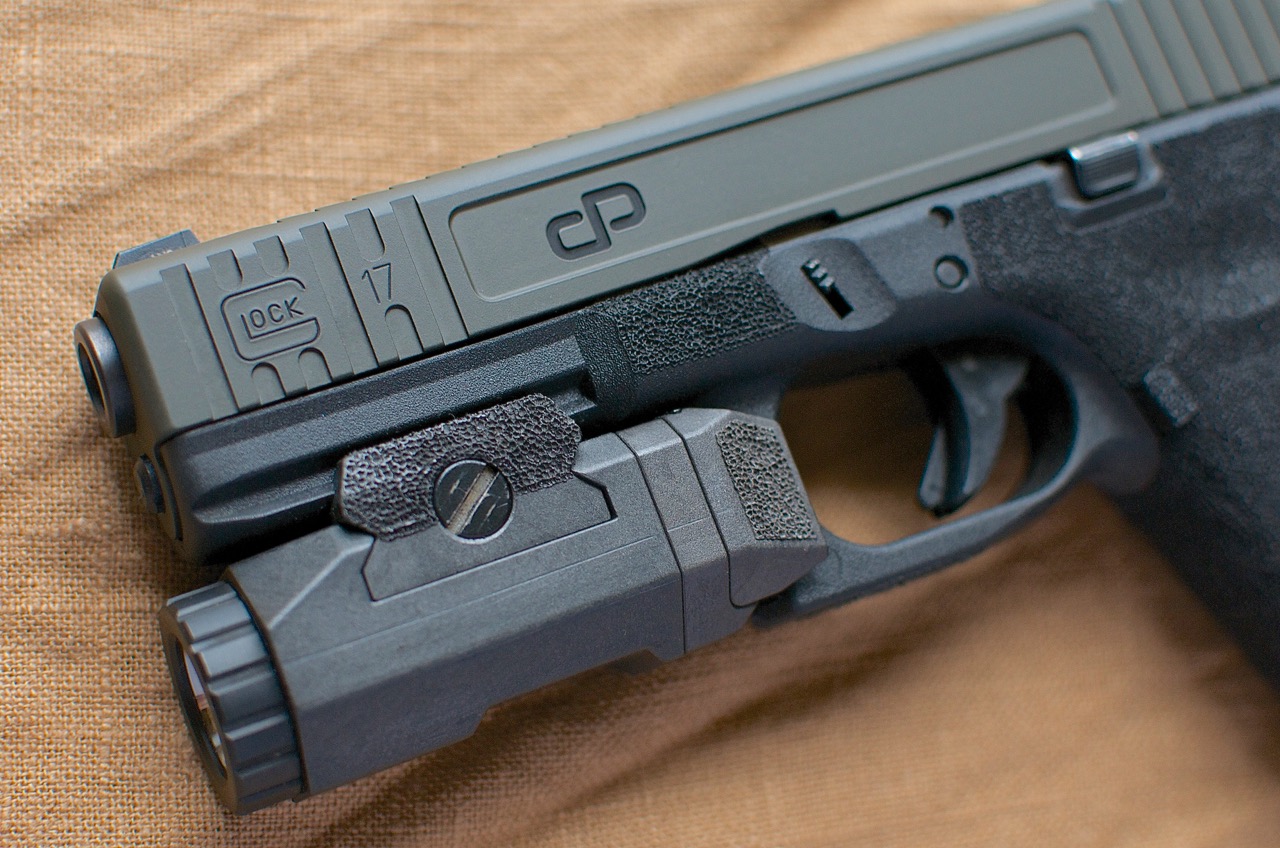 Photo by Abner Miranda. The slide was done by DP Custom Works, frame work by Abner and the Cerakote was done by WeaponWorks
Speaking of switches, the switch on the APL only has two modes: momentary and constant. Momentary is activated with pressing in and holding until you no longer need light, whereas constant is achieved with a press and release of the switch. My first concern with this would be that while trying to use momentary I would accidentally trigger the light into constant mode, however the only way I was able to achieve this was if I was attempting to strobe the flashlight. If you are attempting to strobe the pistol light it will be a slower strobe. I am not a ninja CQB secret squirrel though, so the two modes included in the light work great for me.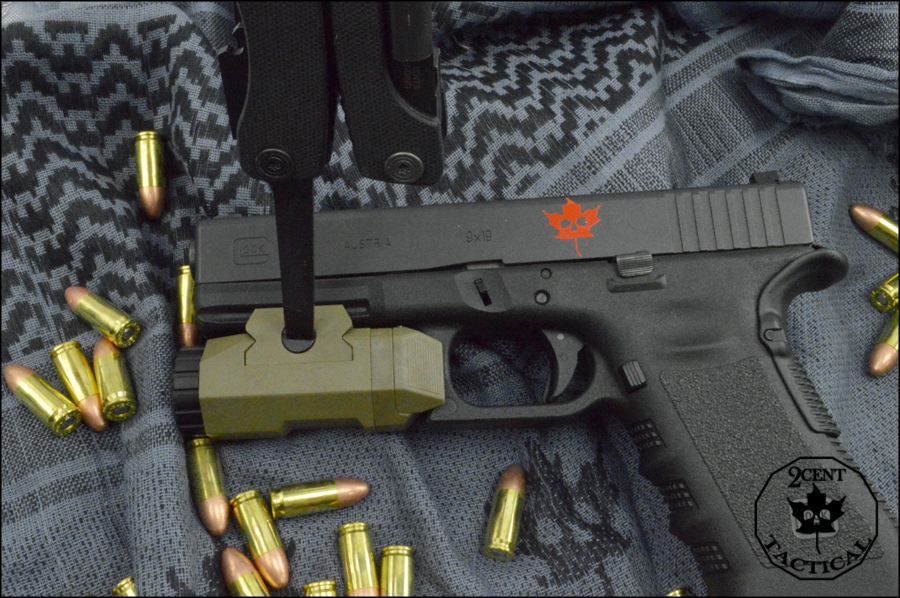 The light output of the INFORCE APL is great. The center is a nice bright white with good spill, allowing other threats in the area to be seen. 200 lumens at pistol range is more than enough to make you want to say "Ze goggles! Zay do nothing!" I wouldn't really want a pistol light that was brighter then this because bright white surfaces or any reflective surface downrange produces the risk of screwing up your own vision.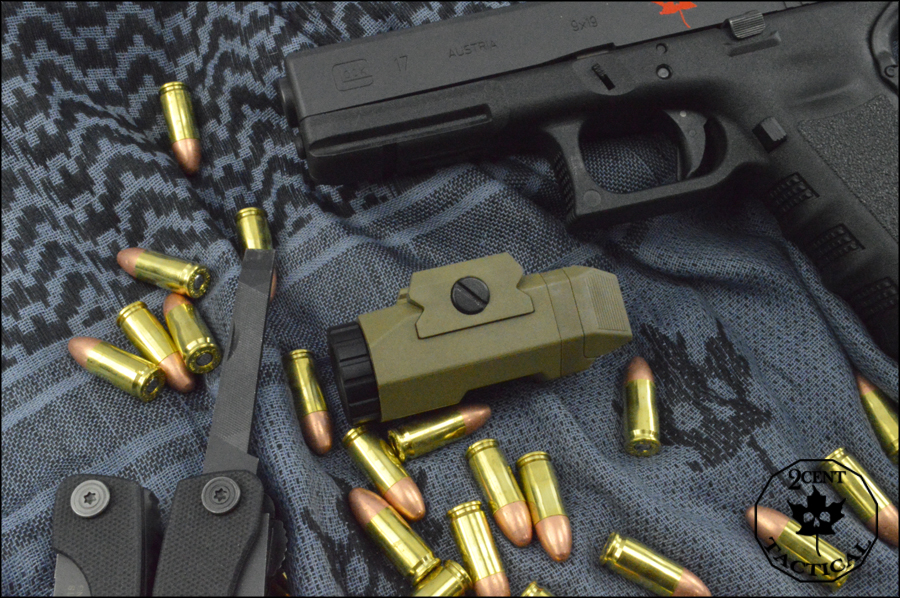 The new improved mounting system for this version of the APL includes a rail adapter that can be removed so that the APL fits out of spec rails better. The adapter is specifically made to work with 1913 rails and should only be removed if you cannot get the light to mount.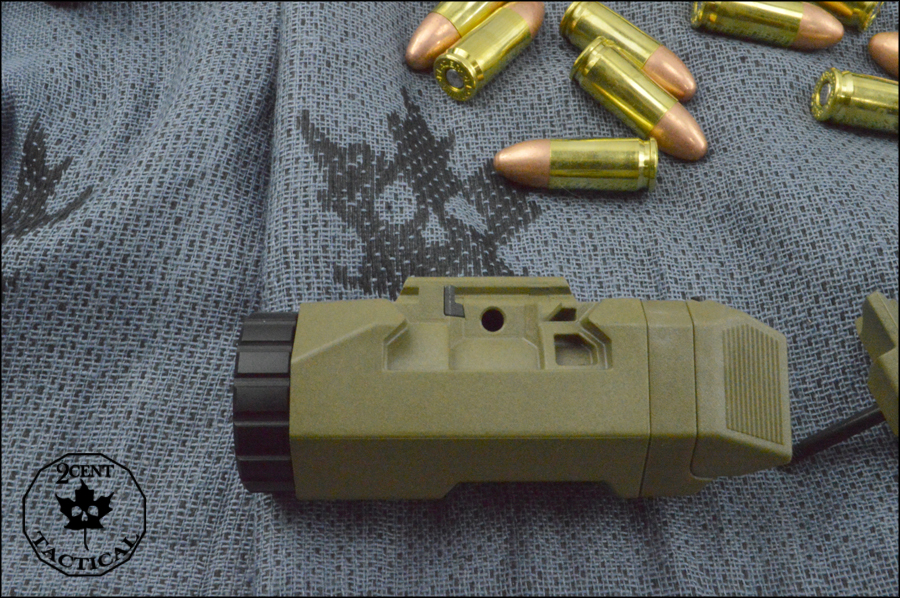 It comes with a second adapter mounted in a slot in the light's body in case you lose your first one. Due to the Glock not using a standard 1913 rail, the adapter must be removed in order for it to fit. When mounted to the Glock the APL will not budge and even after about 800-900 rounds it's still sitting right where it should be. I know INFORCE has had some issues with their earlier version, but this new and improved one seems good to go.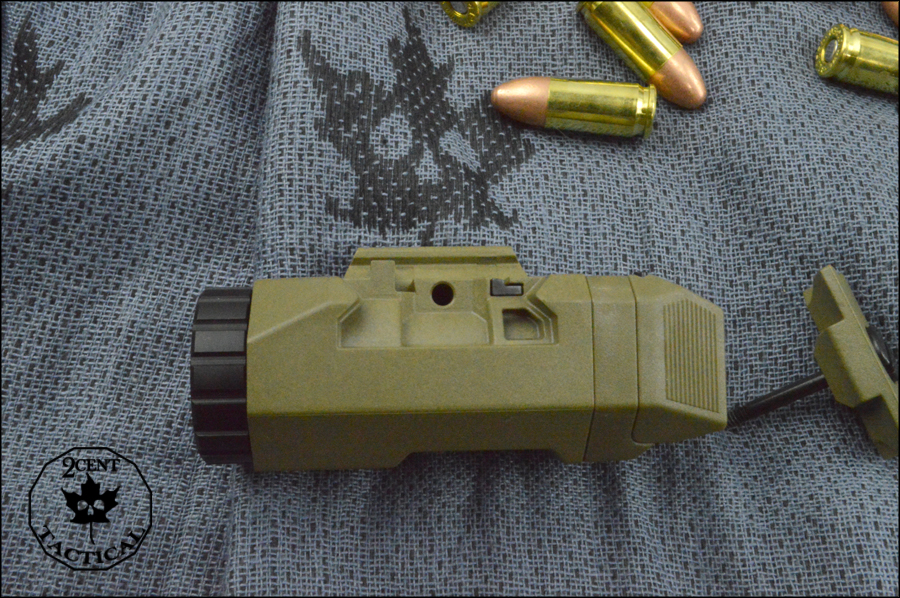 My only real complaint for the APL is that so few holster companies make holsters for them. There are several Safariland holsters for the X300 and TLR that will fit and Bravo Concealment also make APL specific models, but other than those though I think you pretty much have to check with the custom guys to get your fix. I have waited awhile for G-Code to make the SOC cowling for the APL, but no such luck just yet. I will be giving a shout to Mike over at Allen Gun Works to get a custom kydex one made for me.
Conclusion
For around $130 USD you can find this light in either graphite or FDE. To me that's a lot of bang, or I guess lumens, for your buck. It was good of INFORCE to ensure that the new APL was the exact same form factor as the old one so that current holsters and holster makers didn't need to change. They did this even though they had to make a new mold to accommodate the new mount, which is pretty good of a company to do, ensuring that users won't end up having to spend any more then they have to. I anticipate many years and several batteries worth of good use out of this light.