Magnum Sidewinder HPi
www.magnumboots.com/us/
After speaking with a Magnum rep I was told that the Multicam boots would not be released until around fall.  Instead she suggested I try out the Magnum Sidewinder HPi which will have a Multicam version later on.  She claimed it to be their best boot yet and I am inclined to agree.  These boots are made to take a beating in harsh terrains and climates and keep going.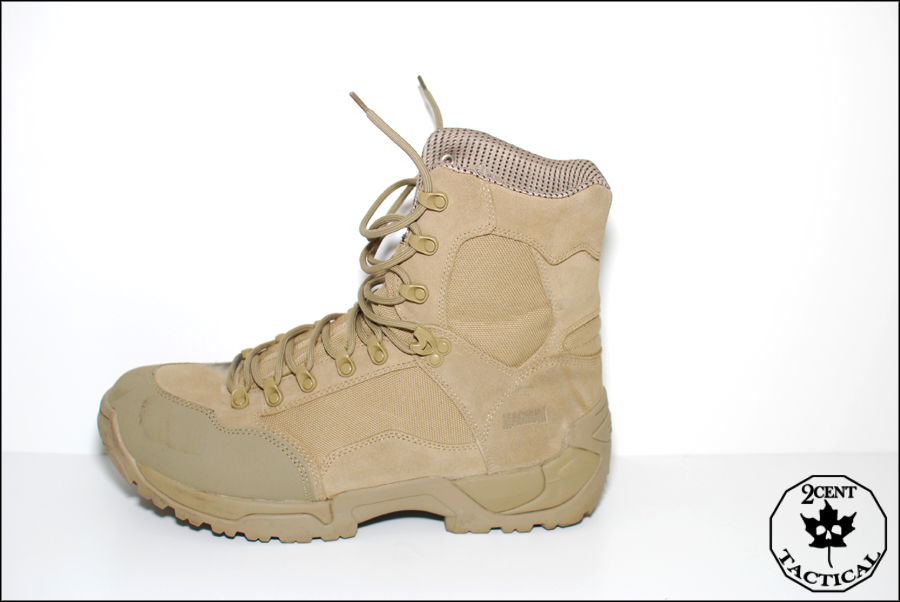 Pro's
-Built tough for mountain environments
-Comfortable mesh lined interior to aid in breathability
-Reinforced side for fast roping
-Magnums ion-mask treatment works as it should and water just beads off the boot
-Designed to survive a year of wear with an extra 175lbs of kit worn on top of the users weight
Con's
-May seem too rigid for some people
-For a boot of this class a better insole should have come stock
Initial Wear Period
Every time a new package arrives at my door I can't wait to drag it down stairs to open it up.  When I tore into the box containing my new desert boots was no exception.  I pulled the paper out of the toes of each boot and did a quick look over.  Everything about the boot was reinforced and built to take a beating and not give up.
The Sidewinders have a lace lock system I have yet to see on any of my boots and at first I was not sure what to think of it.  I was worried that it might start to wear at the laces with constant removal of the lace.  Thankfully even with my giant feet I have yet to pull it out of the lace lock to put the boot on or off.  Instead it keeps the lower half of your laces at the perfect tightness allowing the boot to be put on faster than a conventional system.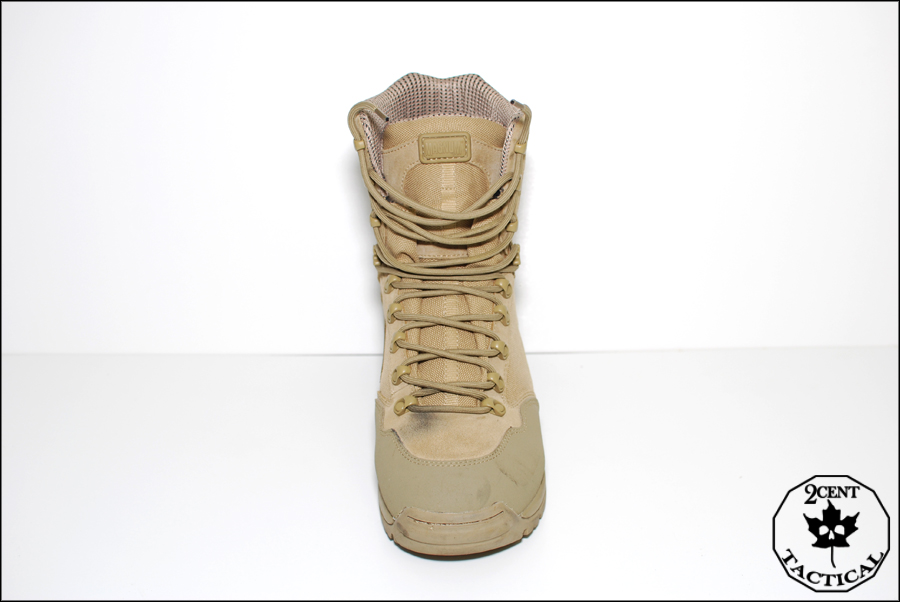 I have had these boots on for almost all my running around I have been doing lately and can honestly say the hydrophobic coating called ion-mask that Magnum puts on these boots is worth its weight in an extremely light mineral that is worth a lot.  The worth its weight in gold analogy would be silly since the treatment weighs next to nothing.  I have had these out in heavy rain, light drizzle, on puddle filled paths and have yet to have water in my boot.  These boots are not a true waterproof boot however.  I would put them in the same category as a softshell when comparing a softshell to a hardshell.  If you're out in the rain for short periods of time then a softshell is what you're looking for.  However if you're out in monsoon rain all day long you should look at a hardshell.  Both repel water but one will do it for a greater amount of time over the other.  The reason they differ is a softshell that is worth any money is coated in a durable water repellent or DWR for short.  This is essentially what the Ionmask treatment is.  I should make a correction here since I was wrong about the treatment and it will last the life of the boots material which is really cool.  So Magnum needs to start producing those softshells they have in military colors with this on it (hint hint). If your slogging around the desert climbing over mountains to the various observation posts or on patrol you would be looking more for the Sidewinder as opposed to a Goretex style boot.  The DWR treatment on the Sidewinder will shed the rain during the rainy season while making sure your feet don't smell like the burn pit at the FOB from the accumulation of sweat.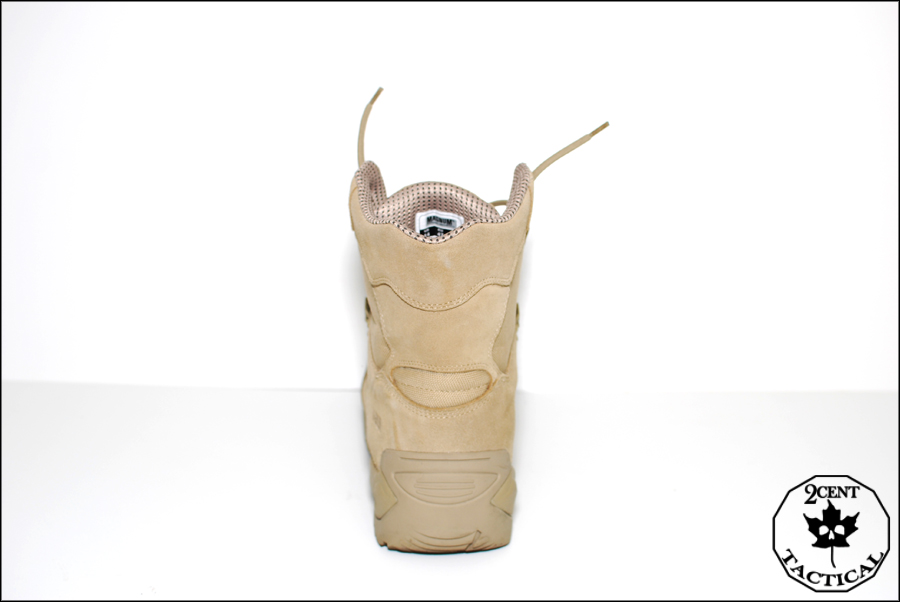 These boots are very comfortable right out of the box however a person not used to boots like this, the Merrell Sawtooth  or other mountaineering boots might find them to be a bit rigid for their liking.  Having used a set of Sawtooths or my Bellville's a stiff boot doesn't bother me that much.  This is likely due to the outsole design that Magnum has chose for this model.  If I had to compare these to the Sawtooths in comfort I would pick the Magnums 100% of the time.  These boots were put through my standard rucksack march test to see what I thought of the shock absorption and general comfort almost straight out of the box.  My route is part city street, part pea gravel and an upward climb up a forested hill.  I did not receive any hotspots and my foot did not feel very sore after the ruck and over the following days.  After all the wearing of the boot I have only managed to get a few scuffs from grease on the boots and have noticed no real wear yet.  Even the outsole of the boot still looks great.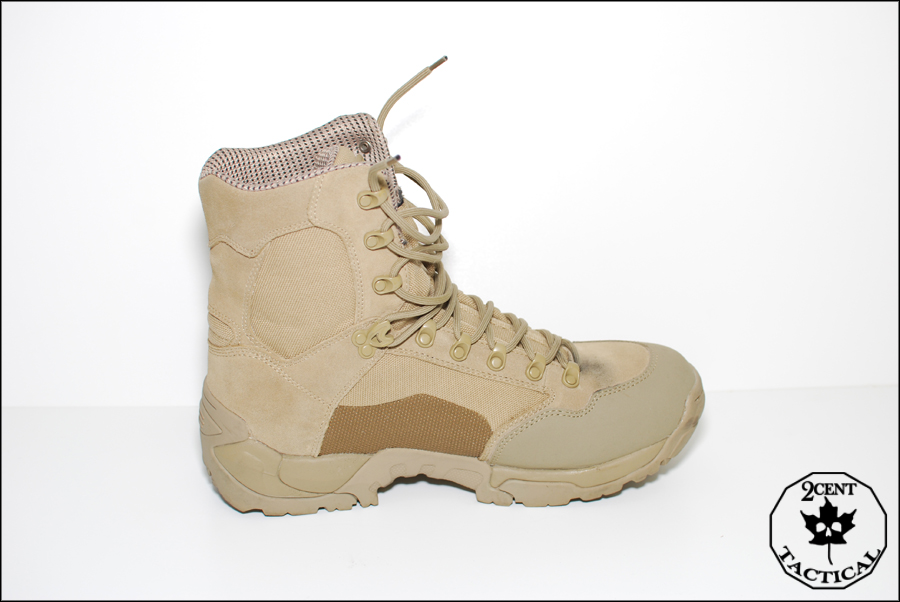 Materials and Build
I will start from the bottom up in the breakdown of what this boot is made of.  The outsole is a dual density Vibram outsole.  The outsole appears to be made of a dense hard use rubber as the base with the cushion coming from the top material which appears to be TPU.  The outsole has a grippy pattern that provides good grip on varying surfaces and provides minimal squeak on tile floor when wet.  Sadly I don't have a fancy testing rig to test friction force on multiple surfaces that the boot has so I cannot compare the tread pattern to other boots.  The toe of the outsole is glued on with a very thick thread stitching to stop toe outsole separation from the rest of the boot.  The inside of the outsole where both feet touch together at the middle has small treads on it to add traction when fast roping.  Just above this area is a SuperFabric reinforced area to stop the rope wearing at the boot.  This fabric appears to be a fabric impregnated with little tiny dots of plastic for the rope to slide along.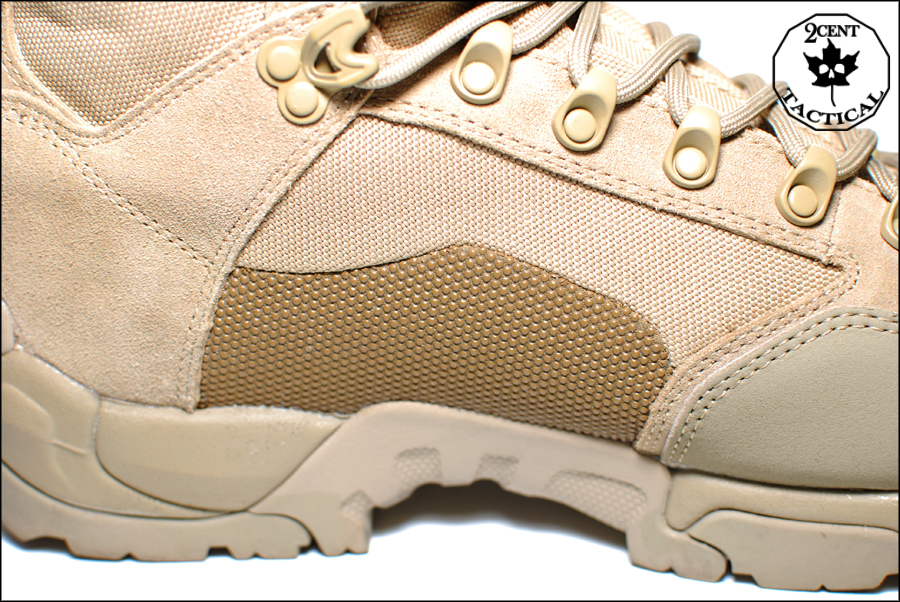 The toe of the boot is made with normal 2.2mm suede underneath with a coated hard wearing toe cap for increased wear resistance.  All the stitching on the various panels that make up the boot are double stitched and one set of stitches at the heel is triple stitched.  This ensures that even if one row manages to fail the other will hold.  The remainder of the outside of the boot is made with suede in high wear areas and 1200D nylon in other areas to aid in the moisture wicking properties of the boot.  The eyelets of the boot are all metal and are fastened with a hefty rivet.  The lace lock is held on with two slightly smaller rivets as it has to fight the most forces when your pulling your boot on and off.  This lacing system is by far my favourite and makes getting into and out of the boot really easy once you untie it.  I don't even mind that the boot doesn't have a loop in the back top of the boot to aid in pulling it off as I have yet to need it.
The interior of the boot is made of Breathe Right lining which is essentially a mesh covered foam that allows moisture to be pulled from your feet.  The entire inside of the boot other then the sole area is covered in this material and does what it claims to do.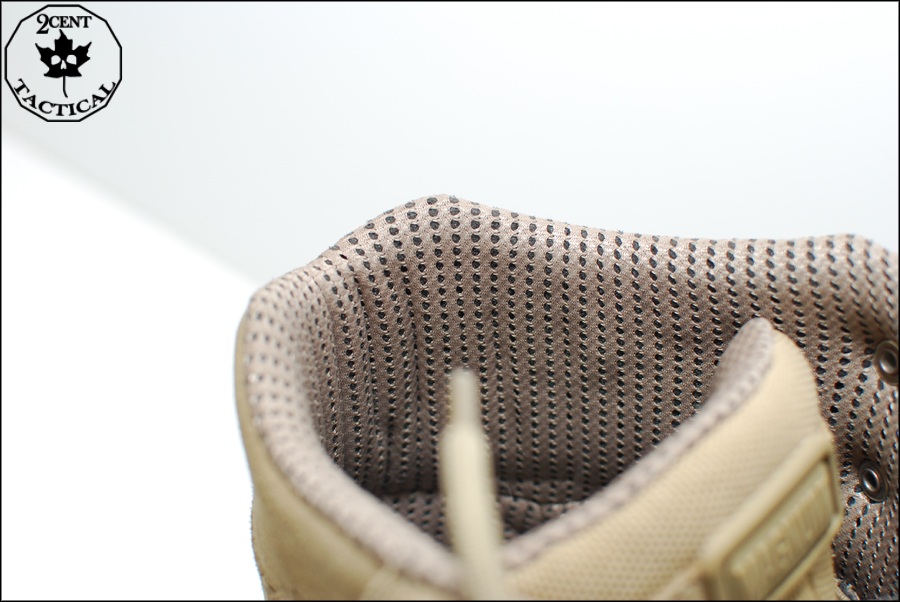 The insole of the boot seems to be a basic Ortholite insole made of a foam material.  I would have preferred to see Magnum spend a little bit more money in this area.  The rest of the boot has so much thought put into it that it seems odd they would put such a basic insole in.  It's not bad and does the job but there are certainly other choices out there that I would prefer to see.  I plan to slap my standard insole replacement into these boots a set of the green SuperFeet insoles.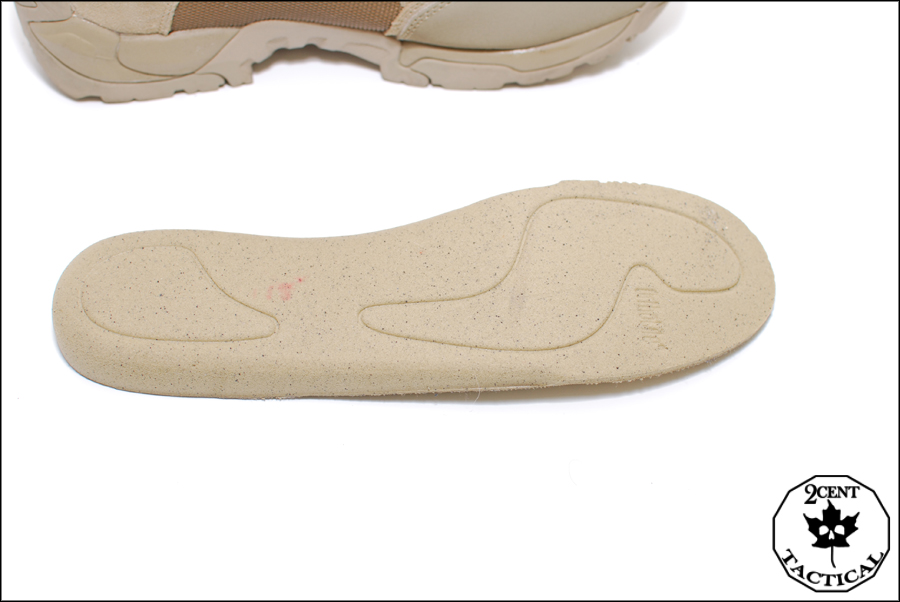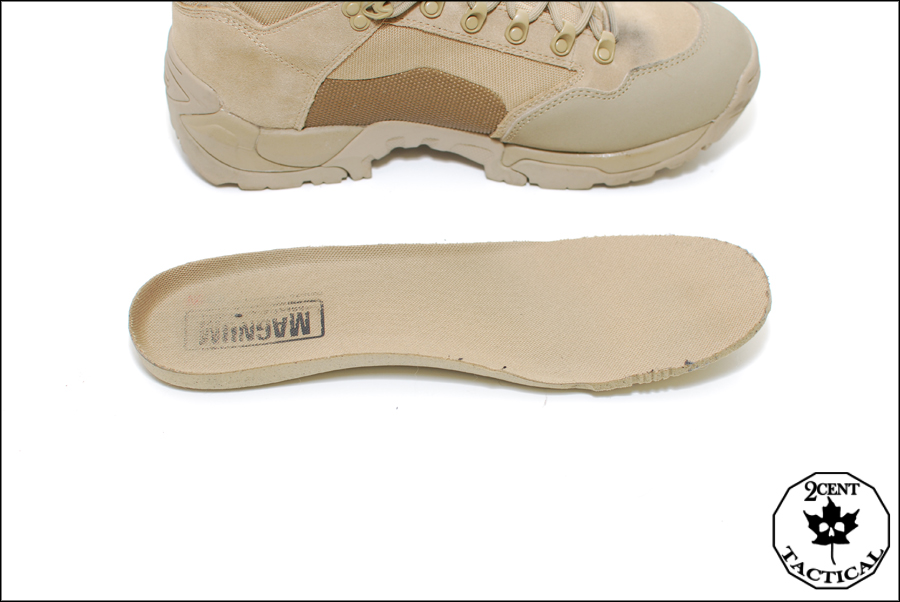 Conclusion
Magnum has grown in leaps and bounds since the first pair of boots I owned from them.  I still have my first Magnum boots kicking around that have been replaced to four-wheeler duty.  This is more then I can say about some of the other companies around that I have used over the years.  My sidewinders are by far my favourite mountaineering style boots I have yet to wear.  I plan to replace my Sawtooth's with these for hiking boots.  If you're stuck in a FOB or crawling around the mountains then you should give these boots a go.  The list of features along with the durability make these boots something worth looking into.  I am also impressed that these are offered in wide sizes up to 15 which you don't see all to often these days.