The Spec-Ops The Wallet Jr is a "tactical" wallet with a unique but well designed opening procedure. The Wallet Jr holds your cards so they slide out only when the wallet is open so there is no worry of them falling out. The wallet is built with function and durability in mind.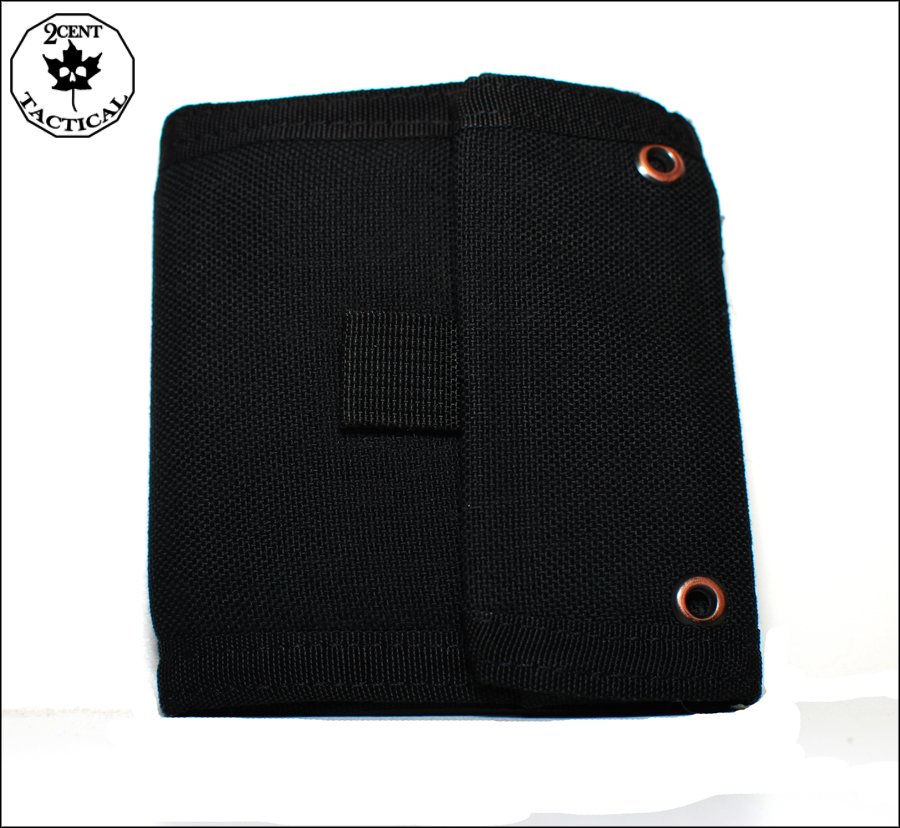 Pros
-Shark Bite opening method works exceedingly well and does not use Velcro (very important in a highly used spot like this)
-Has a zippered pocket small enough to hold a challenge coin, spare keys, or some change underneath the interior id window
-Has two id windows, one on the outside and one on the inside of the wallet (allows you to quickly display an id without a waste in time)
-Two grommets are located on the Shark Bite closure to allow para-cord or a chain to be attached for neck carry
-Zippered bill, coin, receipt pocket in fold of wallet to keep your items from falling out
-Cards can only be removed once wallet is open
Cons
-Can be slightly bulky compared to other wallets
-Depending on if you store coins in your wallet it can be uncomfortable if the Shark Bite area is near your butt
Material
The Wallet Jr is made of Cordura in 1000D and 420D Nylon. The zippers on the wallet are YKK zippers and I have not experienced any failures in the past several months of constant use. The card areas are made of a sturdy clear non glare plastic. Ordinarily this plastic area on other wallets starts to crack and break early in its life but this has showed no signs of cracking.
Features
The Wallet Jr is chocked full of useful features as far a wallet goes. On the outside you have the unique shark bite closure method. This method does not use Velcro which would wear out in a short time. Instead the shark bite relies on a stiff flap that is tucked into a pocket on the other part of the wallet. The pocket is also stiff to aid in stuffing the flap easily in when closing. This flap is heavily reinforced with stitching so there isn't a worry of it ripping apart. In order to open the flap just pull on the 2cm wide webbing loop and it quickly pops open. The flap also has two grommets on it in order to attach some para-cord to. The para-cord can be used to hang it around your neck in a seedy area. On the opposite side of the closed wallet is a clear plastic covered ID window. The ID is not easily removed unless you want to take it out.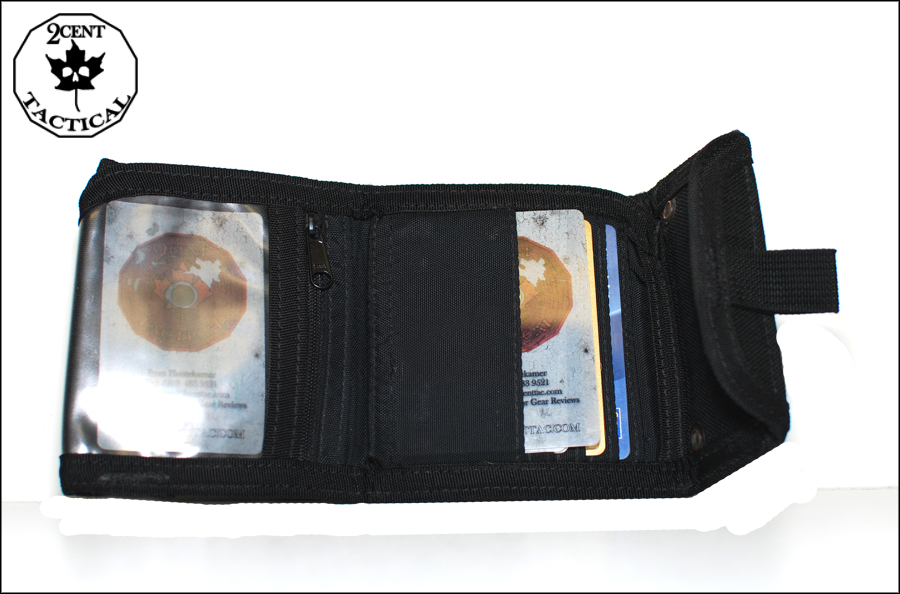 Inside the wallet starting from left to right you have another ID window. This is useful if you are required to show two types of ID for instance military and drivers license. Underneath the ID window are two other pockets. The first pocket is a zippered pocket. This pocket can be used to hold your challenge coins, change or spare keys. The next pocket is another card pocket. This card pocket is deeper than normal pockets and cards can't be as easily retrieved from it. I use this pocket told hold my Gerber shard and a small sewing kit.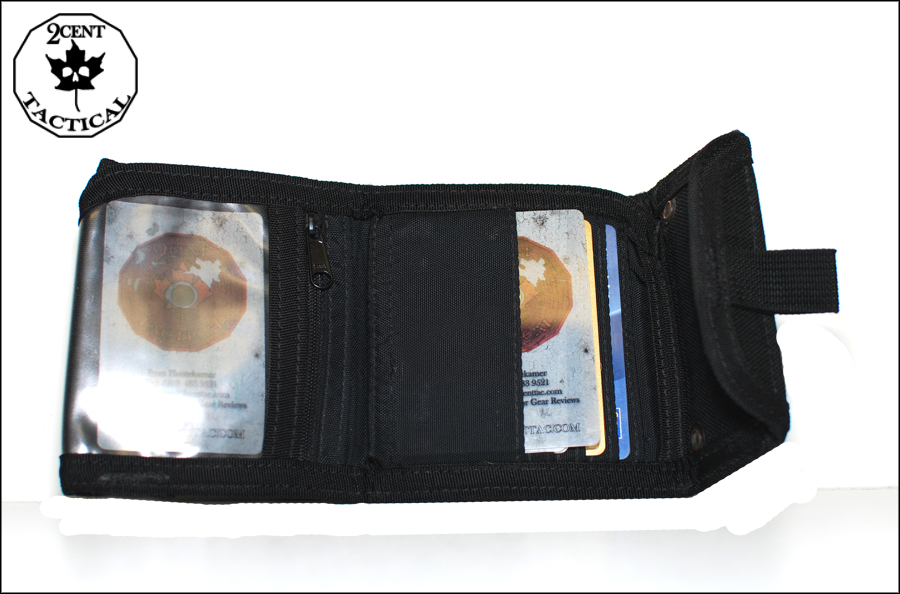 The middle section of the inside has five card slots for your regularly used cards (credit, bank, points cards etc). Removing the cards is very and when they are fully inserted they stick out 1cm. In order to remove the cards you slide them horizontally. This is an important feature that keeps your cards in your wallet. The only way to remove the cards is when you open the wallet. If you have ever had a card fall out of a wallet you know why this is a good feature. Underneath the card slots is a pocket that can hold your rarely used cards. The only issue with this pocket is the flaps from the other pockets can some time get in the way when sliding a card in. This is not a real issue however because the cards in there will hardly ever come out. The Spec-Ops brand logo would normally be seen in the center of the wallet , however mine ripped out when a friend tried to stick the Gerber Shard behind it like a sheath. It being removed does not effect the function of the wallet.
The bill area of the wallet easily stores all kinds of bills with some extra room in order to fit different countries money in it. Just behind this is a zippered pouch that can be used to hold receipts or your bills securely. I use it to hold my change as its easier to remove it from this pocket. Inside this pocket is a small tag that says made in U.S.A.
Summary
This is by far my favorite tactical style wallet I have had the chance to use. It doesn't use Velcro at all in the wallet which tends to fall apart fast in a wallet. The ID windows make it great if you need to flash id or a bus pass quickly instead of rummaging around inside the wallet. Having zippered pockets to securely hold your items is an added bonus. This wallet may be slightly bulkier than your average Cordura wallet but its features far outweigh its size.